Wire Mesh Small Parts Baskets
Marlin Parts Baskets, Wire Baskets, Mesh Wire Containers and More!
Make storage and handling of small parts with wire and mesh baskets, safe and efficient. Make your move to more
organized storage with greater capacity, high strength small parts baskets, designed to be rust resistant
with a Zinc plated Parts Washing Baskets.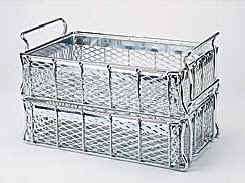 Marlin Small Parts Washing Baskets
For general parts handling, carrying, cleaning, and storing. Features an integral handle runner which
permits stacking in tiers and movement of entire stacks. 18-gauge, rust-resistant 1/2" mesh sides and bottom.
Finish:
Zinc
Uses:
Efficiently store, move, and handle small work in process parts in
oily/greasy manufacturing environments
Delivery:
In stock for quick shipment. Fob Michigan
The industry standard for Small Parts Baskets!
NOTE: 5 Basket Minimum
Overall Dimensions
W x D x H
Mesh
Zinc
Plated
Price each
16 x 10 x 4-1/2"
1/4"
363272-14
$78.35
16 x 10 x 4-1/2"
1/2"
363273-14
$68.70
21 x 13-1/4 x 6"
1/4"
363274-14
$92.90
21 x 13-1/4 x 6"
1/2"
363275-14
$84.75
24 x 13-1/4 x 6"
1/2"
363276-14
$92.85
For larger size parts baskets Go here
See the 20"x32"x16" useable 750# cap and 1,000#cap baskets


Back to Home Page

Copyright EquipmentandSupply 2013
Last updated 5-7-19